What is Write Through the Bible??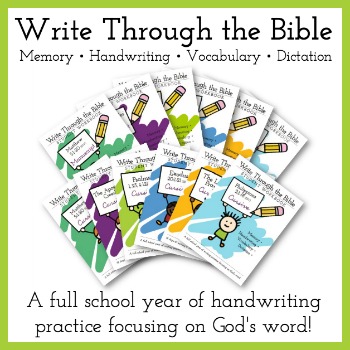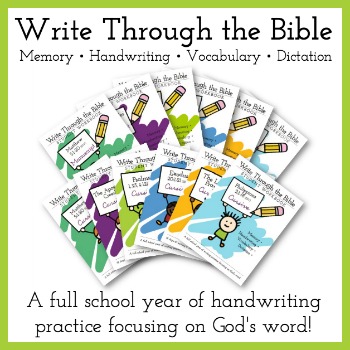 Write Through the Bible is a copywork style handwriting and scripture memory curriculum. The child spends the year writing passages from the Bible. It is a 4-day curriculum, with the option of a 5th day.
This is such an awesome idea! I am all about combining as many subjects as you can and having everything flow really well together. With Write Through the Bible, you get that! I love that my children will get scripture memory and handwriting practice in one program. And since it is copywork, the child will also learn proper punctuation and grammar… and it can even improve spelling skills. Sounds like a winner to me! If all that doesn't make you love this curriculum, I have 5 reasons that will.
This post contains affiliate links. Which means I may receive a commission if you click on one of my links. (At no extra charge for you.) Regardless, I only recommend products or services I use personally and believe will be good for my readers. To read more about how my affiliate links work, click here.
5 Reasons to Love Write Through the Bible:
#1: You are literally copying the Bible word for word.
Ok… so what's the big deal about that? I want my children to love the word of God and hide it in their hearts… so for me… it's a HUGE deal that they are getting that exposure to the Bible. Intoxicated on life also sells Bible Study curriculums that go right along with the Write Through the Bible series! So, on top of learning the scripture through copywork, your child can dig deeper into the scripture, and gain an understanding of it. The Bible Study we used was Heart of Humility.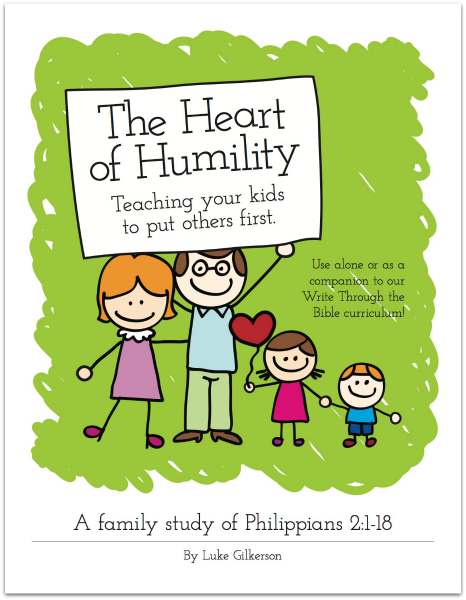 #2: It is Customizable.
There are a ton of options with this curriculum.
4 or 5-day schedule
3 different levels (Junior, Intermediate, Mastery)
Ball and Stick, D'Nealian, or Cursive
Bible Versions ( KJV, ESV)
Digital book or a physical copy (they have new spiral-bound books now!)
We like to use KJV for memorizing Bible scriptures because that is what they use to memorize them at church. I have found that KJV is really hard to find! So it is awesome that they offer KJV.
#3: It can fit right in with the Charlotte Mason method!
It compliments Charlotte Mason's methods well! Copywork as handwriting! Love it!
#4: Super easy to use!
No overwhelming and hard to understand teacher's manuals. It is super simple and effective! It is what you could call an open-and-go curriculum which is great for this busy mom of 4. The less planning, the better!
#5: Very Affordable
This is a huge plus! So many handwriting curriculums are $40 or more! When you have multiple children… that starts adding up pretty quickly. Example of Original Cost (no sales): Junior Workbooks range from $19- $27Intermediate Workbooks range from $15- $21Mastery Workbooks range from $10- $17
With all that said, I really like Write Through the Bible. It is a really unique program. I recommend going over to check it out, and checking out that sale!! You can see a good preview inside each book before buying it. If you have tried Write Through the Bible by Intoxicated on Life, tell me about your experience with it in the comments below!
Check out some more copywork options in our shop. >>> Go to the shop.